Storyteller Contact Information
Brother Wolf Storytelling
Eric James Wolf, P.O. Box 711, Yellow Springs, Ohio. 45387
(937) 767-8696
Some overseas storytellers and storytelling presenters have found email to be blocked by spam filters. If you wish, you can also reach me in a few days at

About the podcast
The Art of Storytelling show began in the spring 2007 as Brother Wolf sought a way to support the art form world-wide. Every couple of weeks he posts a new interviews on the podcast. Each guest covers a different aspect of the art of storytelling. The interviews are conducted in person or in a conference call format which anyone is welcome to participate on the call. You are welcome to join a call or just listen online, use iTunes, or your podcasting software. If you like what you hear, write a comment on the related post on the blog. It really fuels the guests and the host.
Download a One-sheet PDF on the Show
To listen to a past shows right now go to the Storytelling Podcast Episode List
About Brother Wolf, the host of the podcast
Eric Wolf was awarded an Oracle Award for Distinguished Service to the National Storytelling Community in 2010 for his work on the podcast. This Oracle award is the highest award given by the storytelling community to those who have worked to support the art of storytelling nation wide.
| | |
| --- | --- |
| | Eric James Wolf was born three minutes after the taxi arrived at a New York City hospital on January 20th, 1970. He has attended numerous educational institutions, both public and private, graduating with a BA in Human Ecology from College of the Atlantic for which his senior project was storytelling. His experience has included an apprenticeship with a professional storyteller. He completed an M.S. in Environmental Education from Lesley University – sister school to Harvard. |
He has been telling stories since 1993 for compensation – but his first public performance was at the age of 8 when his sister told her teacher that he was a good storyteller. The kindergarten teacher proceeded to nod knowingly and invited him to tell a story to her class. Little did she know – 20 minutes later, with the lights turned low, Eric finished telling, "The Old Man in the Shack." Then the fifteen parents lined up out side were finally able to pick up their children.
Brother Wolf tells multiple genres: modern fairy tales, morality tales, peace stories, historical characterizations and personal tall tales. These stories all have one common theme to them – they teach children to have a magical, mystical and imaginative world view. If you know of some children who need a little re-imagining, please let him know.
He travels world-wide. If you are interested in learning more about his storytelling voice and work, check out one of the pages listed on the bottom of the page or in the middle of the page on the right.
Here is a list of a few places he has told stories around the world…
A Few Venues
Smithsonian in Washington D.C. Albany Free School,
Antioch School,
American Museum of Natural History,
Bank Street School for Children, Bar Harbor YMCA, Maine,
Barnard Collage, Blue Theater – Toronto, Canada,
Community Access Foundation,
Columbia University, Dayton Islamic Elementary, Eco Festival,
Frost Valley YMCA camp,
The Fund for the City of New York,
Hasting on Hudson Grade School. Kings Island Amusement Park,
Our Lady Rose Elementary, Macy School,
New York City Clear Water Festival, Mid-Hudson Museum of Natural History,
New Jersey Liberty Science Center,
PS. 75 Elementary School, WBAI Craft Fair,
Toronto Blue Theater, 90.7 WJSC RADIO Straight Truth,
99.5 FM WBAI Radio Morning Show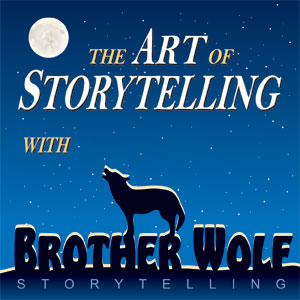 To learn more about Brother Wolf – please check out his professional storytelling site.