Press Play to hear Nothando Zulu speaking on participation on the Art of Storytelling with Brother Wolf.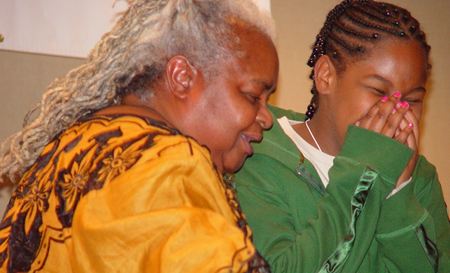 Nothando Zulu writes..
Participation, Participation, Participation…
I began telling stories as a member of an acting ensemble in 1976, presenting storytelling as a major part of our repertoire. We worked primarily in park and recreation centers and schools. As members moved away or went into other fields, we evolved into – and I co-founded – the Black Storytellers Alliance (BSA) in direct response to the demand for storytelling to deliver the inspirational and cultural lessons embodied in our stories.
Early on I encouraged members of the audience to share the storytelling space by becoming a part of the story and one of the characters in the story. On many occasions, I was unable to use all the audience members who wanted to participate! It was wonderful to have so many trying to join in the storytelling process and reinforces oral storytelling as a powerful medium. Therefore, I decided to use a kind of birthday system for who I would choose:
I start with participatory stories in mind
I ask the audience who had a birthday in the prior month
Depending of the number of positive responses, I decide on the story to present.
One example is Ananse and His Six Children. If I receive more than six positive responses, I make some twins or triplets and sometimes quadruplets! I may use the age of the participant to determine the specific role of each participant. In the story Ananse and The Moss Covered Rock, Little Miss Bush Deer has to be at least a third grader, to understand and answer "No" to each of the questions asked by the Ananse character. When the participant is younger, (s)he may miss the concept and answer in the affirmative.
Audience participation is fun and most effective when the storyteller has extensive experience with audience inclusion.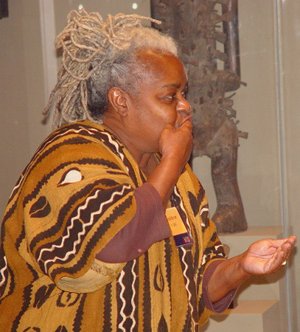 Brief Bio
Nothando Zulu is a Master storyteller who has been sharing stories with audiences for over 30 years. She shares stories that entertain, educate, motivate and inspire. She has performed at many venues locally, nationally and internationally. She draws from an extensive resource of colorful, often funny characters whose antics and follies leave audiences pondering their own life's lessons. As Director of Black Storytellers Alliance, she and her husband with the help of the Board of Directors has produced a three-day storytelling festival celebrating the art of Black storytelling called, "Signifyin' & Testifyin'" (now in the 17th year). Nothando is also a wife, mother, grandmother, community and political activist who believes in the power of stories.
Read more about Nothando Zulu on her website http://www.yourfavoritestorytellers.org/nothando-zulu.htm
and on the Black Storytellers Alliance Website http://www.blackstorytellers.com/