Press Play to hear Gail Herman speaks on building a student storytelling festival on the Art of Storytelling with Brother Wolf.
---

Interview #093
Gail Herman
for $2.23
Building a Student Storytelling Festival.

---
Written by Gail N. Herman, Ph.D. © 2009
I have loved working with students on storytelling in the schools for over 30 years. One of the events that students love is to share their stories with younger audiences. The older students feel like they are giving a gift to them. Students enjoy entertaining and "helping the little ones. However, after some in-depth exploration, training and practice telling to an audience, some students want to share their stories with wider audiences of all ages. Below are types of festivals I have found to be very successful.
Here is a list of ideas for starting a storytelling festival in your school or your community.
Ways to get it started. (You pick which one you want to start with.)
Find a few teachers and/or parents and offer to tell a story in the teachers' classrooms. Start suggesting the idea that students can also retell or tell stories to share with younger students. This is the short "festival version". This year Broad Ford School second grades did this after my performance on tall tales. They all told their original tall stories (alone or in duos and trios) about Johnny Appleseed. The teachers made it part of their curriculum with the help of their enrichment teacher.
Or write a press release in the school paper(s) or community newspaper about a new enrichment opportunity to be held in the community. "Tellers wanted, grades ___ to ____ to share their retelling of a folktale, tall tale, legend, or an original story of their own." Over and over I have found "If you build it, they will come."
Find an auditorium or a venue with a stage and/or 10 classrooms or spaces. The spaces are for student story sharing circles in small groups of 10 stories with parents/friends as audience; the auditorium with a microphone is for a main stage sharing by a portion of the group (picked at random or by the sharing circles). I have directed and held over 25 festivals in three states (CT, WV, and MD) in schools, in church fellowship halls, state parks, and at colleges. Smaller "festivals" for, let's say three classes of grade two, can just be held on the school stage/ "cafetorium."
If possible find businesses and/or an organization that will support the event. Gifts for each student teller are so appreciated. Finding gas money (or a grant for an honorarium) for you is also great! Our local American Association for University Women, Garrett County Branch in Maryland has been very supportive. We also have a used book sale there.
When the session is in school, the audience comes free, unless it is a fundraiser for the school, usually at night. When it is on a Saturday or a Friday after school and in another location, you can charge admission and a fee to participate. This can be for such things such as pizza (or refreshments), certificates of exaggeration, gifts, or for purposes of donating to a charity. I have found the later to be a very attractive reason for students, parents, and teachers to desire participation. Give the proceeds, or part, to the charity.
If you have the time and can afford it, offer to help the students once they bring back or send in their permission slips. I have found that some teachers and parents help their students but most would like you to help their child during school, after school, or during special times on the weekends. One-on-one and small groups work best.
For more information, see the article I wrote on Eric Wolf's website or listen to his interview with me here.
An additional venue for experienced students is the National Youth Storytelling Showcase (NYSS) to be held in 2011 in February in Pigeon Forge, TN. One of our students, Joanna Guy, won the Grand Torchbearer's title there in 2008. I am the Maryland representative for NYSS. Visit the site on the web to see and hear expert student storytellers!
Gail N. Herman, Ph.D.
The Organic Storyteller
166 Lodge Circle
Swanton, MD 21561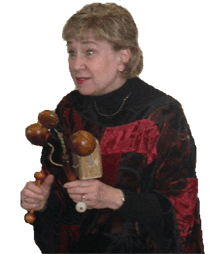 Bio on Gail Herman, Ph.D.
Creative storyteller and arts consultant, Dr. Gail N. Herman has performed and taught storytelling extensively throughout the United States, as well as in Estonia, Latvia, Lithuania, Jamaica, Germany, India, Ghana, and St. Thomas. Besides performing for students in schools and libraries, Dr. Herman works with teachers and helping professionals to infuse storytelling and the kinesthetic, musical, and spatial aspects of learning into reading, science and other curriculum areas. She teaches for Lesley University, MA; Garrett College, MD; and The University of Connecticut (CONFRATUTE) in CT. Gail has directed the Tall Tale Liar's Festival in MD for 17 years.
Read more about Gail Herman, Ph.D. Storyteller on her website.