Press Play to hear Anne Glover speak about Finding Your Authentic Voice in Storytelling on the Art of Storytelling.
---

Tired of the tin sound?
Purchase a HQ Mp3 File of
Interview #089 Anne Glover
for $2.23
Finding your Authentic Storytelling Voice.

---
Anne Glover writes….
Here are two things I feel passionately about in storytelling: authentic voice, and connection to the audience. They are closely intertwined. Some people think "authentic voice" means "no character voices." If you've heard my dialogues with the character "Monkey," you know that I use character voices, particularly for comedic episodes, as Eric learned when he interviewed me. (Have you recovered yet, Eric?) But when I use those other voices, I make a clear distinction in my voice, my brain, and my body between the character and my narrator.
As both a performer and a listener, I prefer a natural voice for the narrator persona. Sometimes as tellers, we think we need to be doing "more." We alter our voice, add more breath, and drop to a different register, as if "storytelling" required something other than our true selves. It doesn't. In fact, it demands that each of us bring our true self to the fore, without letting our ego get in the way of the story. This requires that we constantly watch ourselves and our deep intentions, with ferocious honesty.
Sometimes we get so wrapped in the notion that storytelling requires a special voice, that we get in the way of the story. Some people want to know how to "find" their authentic voice. Here's a technique I like. I might say, for instance, "Bob, tell me what your story is about. Don't tell the story. Just tell me what it"s about." And Bob says, "Well, it's about this guy who (blah blah blah)" – So far, Bob is using a normal conversational voice. Then he gets caught up in the story and he starts telling it: he gives more detail, and – most significantly – his voice changes. All of a sudden, he's using a "special" voice, extra breath in his speech, and maybe he's changed to a different register and volume.
What I want is for storytellers to find that conversational, relaxed voice, and develop a working relationship with it. I'm not saying it's all we should use. But it should be part of our repertoire. I want storytellers to be comfortable being themselves, using their own voice, along with whatever else they use. Think about what our voice carries, along with the story. It carries, in invisible code, a message of how much we trust ourselves (and therefore the audience) with our true self.
Connection with the audience is essential to storytelling, and it's alarmingly easy to lose. There will be surprises and concerns: "I thought there would be 300 high school kids – what are all these pre-schoolers doing here?? And why isn't my mic working and is my fly zipped?" Dealing with all this is an art in itself. But knowing our authentic voice and being comfortable with it will keep us real and connected to this audience (as opposed to the audience we thought we'd have, or the audience we had last time, or the audience we wish we had). If we have that authentic connection, we can reach our audience.
©2009 Creative Commons A Glover and Brother Wolf Storytelling (Nonderivative Noncommercial use only)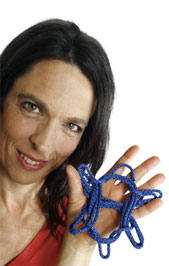 More about Anne…
Anne Glover is an entertainer and consultant based in Victoria, BC. She has spent years enchanting audiences with her stories and string games and inspiring educators with her innovative approaches to education. Anne has appeared at countless schools, festivals, and conferences across the continent, and has performed her original stories on CBC radio, in both English and French. She is a polished, engaging entertainer with a humorous wisdom and an infectious enthusiasm for life in any language. Anne Glover's Website.