Press Play to hear Kim Weitkamp speak about reaching troubled youth through storytelling on the Art of Storytelling with Brother Wolf.
---

Tired of the tin sound?
Purchase a HQ Mp3 File of
Interview #084 Kim Weitkamp
for $2.23
Reaching Troubled Youth through Storytelling.

---
Kim Weitkamp writes…
For 15 years I saw first hand the amazing power of story. The right story deposited at the right time is like a time release capsule. I cannot count how many times one of the teens that I was working with would come back to me, after I told them a story, and they'd say, "Hey, you know that story you told me the other day? Well, I've been thinking about it.
When I would hold group discussions, a story would bring together opposing sides. When I was digging into a person's heart, trying gently to unearth the pain that was causing them to act out in anger, a story would be the trowel. When I looked into the angry hurting eyes of teen, a story would prove to them that I understood and that I had been there too.
I loved working with at risk youth and found great satisfaction in using story to bring healing. It was a worthy calling. But, after 15 years, it wore me out physically and emotionally, so I retired. From youth work, not storytelling. You cannot retire from what you are, you can only retire from what you do. So what I was had to release itself in another form.
I pulled out journals that I had kept over the years and started going over stories that I had written for no other purpose than to make me smile. I started sharing those stories with people outside my family and friends circle. After a few years of puttering around state festivals, schools and libraries, I branched out and before I knew it I was telling full time. But inside of me there was a struggle going on.
For years, I had used my stories to help teens who were suicidal, self-mutilators, violent offenders, lost, lonely and at their breaking point. I had used my stories for a worthy cause, but now I was telling for the sheer pleasure of it. I was using my stories to entertain and to make people laugh. I was at odds with myself. How could I go from one extreme to another? Was I selling out? Was there a purpose to what I was doing? I was constantly asking myself these questions.
One evening I was telling in a tent that was draped in white lights. The night was cool and still and the audience was perfect. I was in the middle of one of my favorite stories, right at a part where I pause for effect, when I had the most beautiful experience. As my gaze swept across the crowd I could see each face individually, expectant and ready. It was like slow motion, a hard thing to explain really, but they were there with in the story, not in the tent. They were waiting to turn the corner with me and see what I saw and laugh at what I laughed at and smell what I smelled and taste what I tasted. They were there with me, in my story, walking with me.
It was at that moment I knew that what I was doing was just as worthy as my previous work. No matter how long I have them, no matter how large or small the group, no matter how funny, sad, silly, or heartbreaking my story is: it's a miracle.
Each time I tell I have the privilege of taking my listener away from this world. For a few minutes I provide a much needed break from the rent payment, from the knee pain, from unemployment, from the wayward child, from the death of a loved one. It is a form of medicine, therapy, whatever you want to call it I don't care. I only know that it is good. And to be a storyteller is a worthy calling.
After that experience I went to Jonesborough for the first time and in the glass shop on Main Street I found an art print that brought tears to my eyes. The artist had drawn a picture of a woman and beside it had written: "In the midst of the song she heard every heartbeat and knew she was a part of something bigger." Nough said.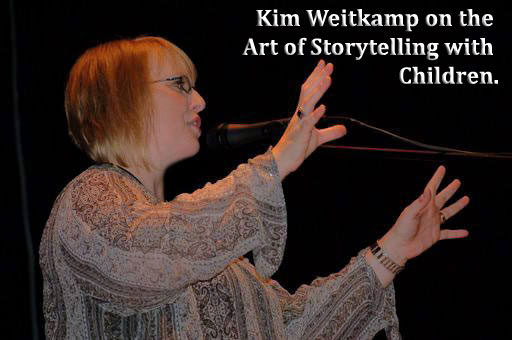 Bio of Kim Weitkamp…
Written by Diane Pelegro
Kim Weitkamp used applied storytelling for over 15 years within her work with youth. She has been a guest speaker, keynote and storyteller at camps, retreats, conferences, libraries, schools, leadership summits and festivals throughout the country. After overseeing various non-profit programs in four states she retired from youth work three years ago.
At that time Kim decided to take her love of humor and storytelling to the stage, and she has been warmly received. Her impressive performance list as a newcomer includes Timpfest in Orem, Utah, the Exchange Stage in Jonesborough TN, the historic Lyric Theater in Virginia, the Northeast Storytelling Festival, the Storytelling Festival of the Carolinas, The Smoky Mountains Festival in Pigeon Forge TN, The Colonial Williamsburg Storytelling Festival and many others. She holds residencies at the Montgomery County Museum, the JuneBug Center for Storied Arts and the Lewis Miller Art Center.
She currently serves as President of the Virginia Storytelling Alliance and is the Virginia State rep for the National Youth Storytelling Showcase. She is also a commissioned performer for the Virginia Commission of the Arts. Kim has written and performed vignettes and stories for the PARfm Radio Network morning show which has a 3 state listening audience. She has penned numerous children's stories but is most noted for her original and humorous Pitscreek Series, which has resulted in two CD projects.
Kim is the founder of the Wrinkles Project, a nationwide program that helps raise awareness of the treasure we have within our 'seasoned citizens' and the stories that they have to share. Kim's first CD, "This Ain't Bull It's Fertilizer" was her freshman release. Her new self titled CD, shows her growth as an artist and writer. The stories are solid and well written and her telling style is casual and warm. The collection is a beautiful example of storytelling at its best. Recently Kim has added the dynamic of singing original songs to her performances. They cozy right up to the story and add depth and additional appeal to her telling.
Kim's genuine care for the audience, love of story, and natural talent has alloted her a solid position within the arena of spoken word artistry.
To Learn more about Kim's work check out her website at http://www.justkissthefrog.com/