Press Play to hear Tim Tingle speaking about the historical perspective of Native American storytelling. on the Art of Storytelling with Brother Wolf.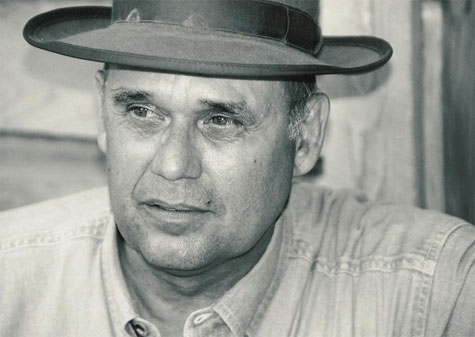 Tim Tingles Bio.
Tingle is an enrolled member of the Choctaw Nation of Oklahoma, a sought-after speaker and storyteller, and an award-winning author of Native American fiction and folklore. Choctaw Chief Gregory Pyle has requested a story by Tingle previous to his Annual State of the Nation Address at the Choctaw Labor Day Gathering–a celebration that attracts over thirty thousand people– from 2002 to the present.
Walking the Choctaw Road, Tingle's first book, was released by Cinco Puntos Press in May of 2003. A collection of stories based on interviews with tribal elders, it was Storytelling World Magazine's Best Anthology for 2003. Oklahoma Reads Oklahoma selected WTCR as Book of the Year for 2005, as did Alaska Reads!, marking the first time in the history of the one-book-one-state movement that a single book has been selected by two states in the same year. Tingle completed a tour of eighty Oklahoma libraries in 2005, presenting stories from Walking the Choctaw Road and promoting literacy throughout the state.

In a Governor's Commendation read before the Senate in May of 2005, Oklahoma Governor Brad Henry praised Tingle for his "devotion to preserving the Choctaw heritage," and declared May through November as Walking the Choctaw Road months in Oklahoma.
A powerful conference speaker and festival performer, Tingle was featured at the 2002 National Storytelling Festival. He delivered the keynote address at the 2006 Johnson O'Malley Conference of Oklahoma and in October will perform in Victoria, British Columbia, at The International Artists of Conscience Symposium. In March of 2003, he completed his tenth tour of Germany for the U.S Department of Defense, performing at schools for children of military personnel. He has performed as a featured storyteller in festivals covering a thirty-state area, and in 2004 was a Teller-In-Residence at the International Storytelling Center
As a storyteller, Tingle brings the lore of the Choctaw Nation to life in lively historical, personal, and traditional stories. He plays the Native American flute and often accompanies himself with an assortment of gourd rattles and drums, adding a haunting dimension to a concert. Vocable chants and hymns sung in the Choctaw language also compliment his stories.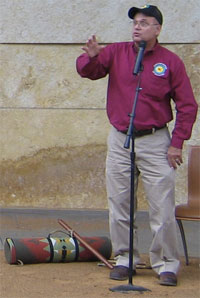 Tingle at the Smithsonian
Tim Tingle gave his first performance at the National Museum of the American Indian on Saturday, June 23, in 2008 at the outdoor amphitheater of the Smithsonian complex. An appreciative audience, including dozens of Oklahoma Choctaws, saw Tingle sing "Shilombish Holitopa Ma," play the native flute, and perform "Crossing Bok Chitto," "The Choctaw Way,"and "Turtle Grew Feathers," his latest children's book.
WHEN TURTLE GREW FEATHERS was released by August House in February of 2007, and has received enthusiastic reviews and great responses from reading audiences. Based on the traditional Choctaw folktale of Rabbit racing Turtle, this early childhood read-aloud book features colorful, whimsical drawings by illustrator Stacey Schuett.
SPIRITS DARK AND LIGHT-Tingle's first August House title is a collection of twenty-five supernatural and ghost stories from the Cherokees, Choctaws, Creeks, Seminoles, and Chickasaws. "The Lady Who Changed," a haunting Choctaw tale about a shape-shifting owl woman, was selected "Best Short Story of 2006″ by Storytelling Magazine. For educators, introductory essays include relevant historical and cultural material for each tribe represented.
CROSSING BOK CHITTO-This richly illustrated picture book from Cinco Puntos Press received enthusiastic reviews from critics nationwide, including Starred Reviews in Booklist, Publisher's Weekly, and an Editor's Choice in the New York Times. Paintings by Cherokee artist Jeanne Rorex-Bridges accent this beautiful telling of Tingle's most requested Choctaw story. Recent awards include the 2006 Teddy Award for Best Children's Book from the Texas Writer's League and the Texas Institute of Letters Best Children's Book of 2006. In winning the 2006 Oklahoma Book Award for both author and illustrator, CROSSING BOK CHITTO became the first book in the history of the award to win both categories. CBC was also selected as a 2007 ALA Notable Book. -¨ -¨Spooky Texas Tales-Available from Texas Tech Press, STT features stories for the younger reader, all set in the bristles and briars of Lone Star state. Graveyard ghosts and creatures from swamps and river banks slink through these ten creepy tales. Highlights include, "Wiley and the Hairy Man," "Tailybone," and "The Golden Arm." Accented with twenty eerie drawings, it's a fine gift for the third through fifth grade student.
In June of 2004, Texas Ghost Stories: Fifty Favorites for the Telling, co-authored with Doc Moore, was released by Texas Tech Press. Now in its third printing, TGS was also chosen by Storytelling World as the year's Best Anthology.
For a full list of Tim's up coming and active schedule go to…
http://www.timtingle.com/