Press Play to hear Jay O'Callahan speak about learning about Stories by telling to my Children on the Art of Storytelling with Brother Wolf.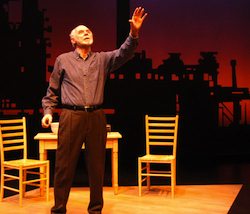 Jay O'Callahan writes…
I'm at work right now on a story commissioned by NASA, The National Aeronautics and Space Administration to celebrate its 50th anniversary. As I create the NASA story I'm aware I'm using all of the knowledge I gained telling stories to my own children. As I told stories to my children I began using repetition, rhythm, changing my voice, using a gesture here and there and inventing situations that involved struggle or risk, When my son Ted was about nine months old I'd make up little songs and rhythms to make him smile. Just making my voice go up high and then suddenly come down delighted him.
One night Ted was sitting in a soapy bath and I read him some of James Joyce's Finnegan's Wake. He laughed at the sounds.
When Ted got older I read books to him like The Gingerbread Man and discovered that he loved the repetition running through the story.
Run, run fast as you can
You can't catch me I'm the Gingerbread Man.
I began reading one of Richard Scary's book in which there was a character called Pierre the Paris Policeman. The line was, "Pierre the Paris Policeman was directing traffic one day." I would sing that line with a French accent and lift up my hand to stop an imaginary car. The voice and accent brought the character alive. That was an important discovery. And if I read it in any other way it wasn't Pierre and Ted would say, "Say it right."
After my daughter Laura Elizabeth was born I told both my children "hand stories." I'd take one of their hands, look at the palm of the hand and let a line, a bump or a curve in the hand suggest an image and I'd begin the story. It might go like this. "Once upon a time Ted saw a pink cloud resting by a tree. The cloud looked sad so Ted went over to cheer it up." I was dreaming aloud and characters and images would spring to mind. I imaged that's always happened to storytellers. I liked telling the hand stories because they were quiet and personal and my children liked being the hero and heroine. Some of those hand stories eventually turned into the Artana stories which take place in a mysterious land where two children, Edward and Elizabeth are the hero and heroine.
As I was telling to my children I learned the importance of a listener, particularly a listener with the sense of wonder and delight. My children listened me into being a storyteller.
Now as I work on this complicated story about NASA I use the knowledge I gained from my children. I ask myself this question: What is wondrous about NASA? And I'm on the alert for compelling characters and the risks they take and the struggles of their lives. I try to incorporate rhythm and repetition; I use a voice to become a character and find that a gesture helps bring the character alive.

As I shape the story and as it grows, I'm using the listeners. The listeners draw out mysteries in the story that I would have missed without them. Here I am back to the beginning.

Biography
Jay O'Callahan grew up in a section of Brookline, Massachusetts which was called "Pill Hill" because so many doctors lived there. The 32-room house and landscaped grounds were a magical atmosphere for a child's imagination to blossom. When Jay was fourteen, he started making up stories to tell to his little brother and sister to entertain them.
After graduating from Holy Cross College, a tour in the Navy took Jay to the Pacific. Returning to Massachusetts, he taught and eventually became Dean at the Wyndham School in Boston, which his parents had founded. "In the summers I'd go off to Vermont or Ireland to write. I also did a lot of acting in amateur theatre, and that's where I met a beautiful woman (Linda McManus) who later became my wife. When we had our first child, I left teaching and became the caretaker of the YWCA in Marshfield, a big old barn on a salt-water marsh. That gave me time to write and to tell stories to my children. When I decided to call myself a storyteller, it was like getting on a rocket." Within three years, Jay was telling stories in hundreds of schools and in addition he was commissioned by the Boston Symphony Orchestra to create and perform Peer Gynt with the orchestra. His stories were broadcast on National Public Radio's "The Spider's Web," which brought Jay national attention.
Jay was now publicly telling stories he had created for his children. His stories were filled with rhythms, songs and characters as diverse as Herman the Worm, Petrukian, a medieval blacksmith, and the Little Dragon. Orange Cheeks, inspired by a time Jay got in trouble as a little boy, was the first of his personal stories.
One of his most popular stories, Raspberries was born when Jay's son Teddy was four. Teddy banged his shin outside their cottage and was weeping, "I broke my leg." Jay told a story full of rhythms to cheer Teddy up.
Jay was also beginning to tell stories to adults. In 1980, while on vacation in Nova Scotia, he sat on and off for a month in the kitchen of an old man and a blind woman. Out of that kitchen came the story of The Herring Shed. I realized then that part of my gift was to sit down with ordinary people where they were comfortable, listen, and later weave a story together so that others could enjoy it. The process still amazes me: one year I'm in a kitchen in Nova Scotia and a few years later, I'm performing The Herring Shed to a thousand people at Lincoln Center. Time Magazine called The Herring Shed "genius. After the Herring Shed came Jay's Pill Hill stories for which is was awarded a National Endowment of the Arts Fellowship. The Pill Hill stories are loosely based on his boyhood.
Storytelling has brought Jay around the earth. "The storyteller of old got on a horse. I get on a plane, parachute into a community and I'm part of its life for a while before moving on to the next one." Jay has told stories to students at Stonehendge, to adults in the heat of Niger, Africa, to theatergoers in Dublin and London and at storytelling festivals in Scotland, New Zealand, Canada and the United States. His stories have also been heard on National Public Radio's All Things Considered. Jay's stories also include commissioned works like The Spirit of the Great Auk, Pouring the Sun, Edna Robinson and Father Joe.
When he isn't on the road, Jay runs a writing workshop at his home. His other interests include reading everything from Walt Whitman to Herman Melville to Flannery O'Connor to Emily Dickinson. And he enjoys listening to jazz, classical music and opera. "I love Maria Callas. Her singing touches a joy that's very deep."

Jay has just finished a political novel called Harry's Our Man, and is creating a story commissioned by NASA for its 50th anniversary. Check out Jay's website for more information at: Jay O'Callahan http://www.ocallahan.com/