Press Play to hear Janice M. Del Negro who was interviewed by Eric Wolf on revising feminist folk-tales: naming the women. on the Art of Storytelling with Brother Wolf.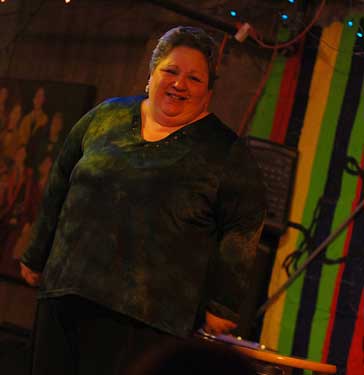 Dr. Janice M. Del Negro writes
When Eric and I talked about a topic for this interview, he asked me what was I passionate about? I am passionate about naming the women.
That being said, I was reluctant to use the word "feminist" in the title of this podcast. The word "feminist" is a trigger word that elicits, in many people, a strong emotional response. Since I agree with Mark Twain – "the difference between the right word and the almost-right word is the difference between the lightning and the lightning-bug"- the choice of the word "feminist" was problematic, because nearly everyone has a distinct personal definition of that particular word. Eric bypassed that concern, however: "people will search 'feminist' online," he said to the library school professor. So here we are, "Revisioning the Feminist Folktale," and I am not sure that two people on the planet have the same definition of what "feminist" means, never mind folktale, or oral tradition. So I'll stick to passion.
I am passionate about retelling folktales. I am passionate about excavating old tales, tales that have already survived for centuries, for emotional truths that resonate with contemporary listeners. There is no definitive version of a folktale, no "original"; we can point to the earliest remembered, written, or preserved version, but not to an "original." Folktales change over time in order to survive, and re-telling folktales for present-day listeners is a contemporary offshoot of what is popularly understood as the oral tradition.
Tales come to us differently today than in the past. A handful of contemporary American storytellers can say they heard folktales from family or friends, tales that were handed down orally, from mouth to ear, but many of us who retell folktales first meet the tales on the page. Sometimes the tales work just as we find them; sometimes they resonate oddly, indicating currents beneath the surface. Those currents offer an opportunity to retell from where the teller stands now, instead of from where the story stood then.
My stand includes my gender. I am a woman. I am fascinated by the women in folktales, not just the women characters, but the women storytellers. Many of the tales we have were collected by men operating within the social mores of their times. The stories these good men chose to collect and the manner in which they collected them were filters through which the stories traveled, affecting the tale's content and presentation. I look at a folktale so collected and I want to know: what isn't there? What would the stories be like if the women were telling them to each other in the kitchen, while the collector was making notes on the polite version in the parlor? Those are the stories I want to tell, and since no one collected them in quite that way, I make my own. Filtered through my own experiences, I try and make an old tale new.
Stories may be static on the physical or virtual page, but for as long as the storyteller is telling, the story has blood and breath. Every retelling of a folktale, imbued with the individual blood and breath of the storyteller, is unique. The storytelling community recognizes this in a practical and concrete way: there are many popular conference and festival programs in which several tellers elect to retell the same folktale, just to show what is possible.
I am enormously interested in the fact that many female storytellers choose to retell traditional tales from points of view not always represented in collected or anthologized versions of folktales. Milbre Burch, Elizabeth Ellis, Susan Klein, Barbara Schutz-Gruber, Megan Wells, my own students (and too many others to name even with unlimited bandwidth) approach folktales through their own artistic processes. I cannot speak to the specifics of anyone's process but my own, and even my process is malleable; the process changes with every story, because every story speaks differently to every teller.
JMD
Janice M. Del Negro, PhD.
Author, Educator, Storyteller
Janice M. Del Negro is an assistant professor at the Graduate School of Library and Information Science at Dominican University in River Forest, Illinois, where she teaches Storytelling, Children's and Young Adult Literature, and Foundations in Library and Information Science. Professor Del Negro did her doctoral work at the Graduate School of Library and Information Science at the University of Illinois in Urbana-Champaign. Del Negro has been a featured speaker, storyteller, and workshop leader at the National Storytelling Festival, the Allerton Conference ("Stories: From Fireplace to Cyberspace"), the Illinois Library Association, the Bay Area Storytelling Festival, the Illinois Storytelling Festival, the Fox Valley Music and Storytelling Festival, the Champaign Public Library Children's Literature Festival, and many other celebratory events. She has spoken and conducted workshops on various aspects of children's literature and publishing, storytelling, and reading motivation for teachers, librarians, parents, and other educators in a variety of settings, including the University of Chicago, the University of Illinois, the State Library of Illinois, the North Carolina State Library, and the University of San Diego.
Del Negro's first picture book, Lucy Dove (1998) won the Anne Izard Storytelling Award; her second picture book, Willa and the Wind (2005) was an ALA Notable Book, and an Honor Book for the Irma Simonton Black and James H. Black Award for Excellence in Children's Literature from the Bank Street College of Education in New York City. Her recent collection of supernatural tales for young adults, Passion and Poison, published by Marshall Cavendish in 2007, received starred reviews in both Horn Book and School Library Journal.
Del Negro has performed and lectured extensively in libraries, schools, and community centers throughout the United States. Her specialties include retelling traditional folktales, reading motivation through literature and storytelling, and transformation stories, with a gentle emphasis on women and ghosts. Her first recording, Journeywomen and Ghostly Passages, was released in July, 1991; her most recent recordings, Romantic Wonder: Tales of Love and Magic, and Shadow's Sisters: Shapeshifters, Wraiths, and Spirited Women, were released in April, 1999. She is currently working on a new recording entitled Fortune's Daughters: Folktales and Ghost Tales, to be released in 2008. Del Negro has reviewed for Booklist Magazine, Kirkus Reviews, the Bulletin of the Center for Children's Books, and School Library Journal, and is currently reviewing for Booklist.
She has served on both the Newbery, Caldecott, and Lee Bennett Hopkins Poetry Award committees. In 2004-2005 Del Negro served as chair of the 2005 Laura Ingalls Wilder Award committee. and subsequently served as chair of the 2007 Caldecott Award Committee.
Del Negro was formerly the director of the Center for Children's Books, a special collection of children's books located at the University of Illinois. Before taking her position as Center director, she was the editor of the Bulletin of the Center for Children's Books, a monthly review journal of books for youth. Del Negro went to the University of Illinois from the State Library of North Carolina, where she was a consultant for children's services and public libraries throughout the state. Prior to this she worked for fourteen years as a children's librarian for the Chicago Public Library, including five years as Assistant Director of Children's Services.