Fill out the form and press play to hear Dale Gilbert Jarvis speak on how to collect true scary stories for Halloween on the Art of Storytelling with Brother Wolf.

---

Tired of the tin sound?
Purchase a HQ Mp3 File of
Interview #064
Dale Gilbert Jarvis
for $2.23
How to collect true scary stories for Halloween.
---
Dale Jarvis Writes
Near to where I live is a small lake with the delightfully ghoulish name of Deadman's Pond. According to local legend, the pond is bottomless, and I'm sure many people know of similar stories for lakes near where they live. These lakes and ponds offer us tantalizing doorways to another realm. Peering into the reflective surface of a still body of water and wondering what lies beneath provides us with a link to the unexplained. Perhaps this is why they fascinate us. It is not so much that we think they actually are bottomless, but that part of us wishes that they might be.
So too with ghost stories. I've told ghost stories to literally thousands of people over the past 13 years, and they continue to be the stories most often requested when I do work with school kids. Most of the stories I tell are true, or at least were thought to be true by the people I learned them from. I love collecting true scary stories that are tied to specific places, and sharing them with people who love that delicious shiver that runs up one's spine when they are well told.
"A teller of spine tingling tales that are so convincing, that even if you don't believe in ghosts… you soon will!"
-Wayne Rostad, On the Road Again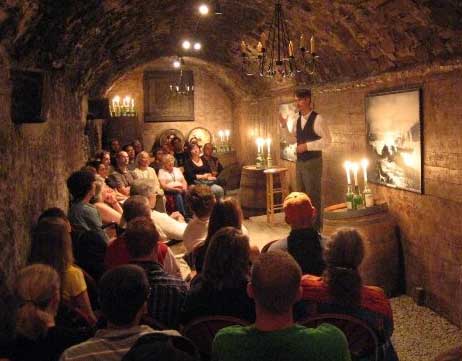 Bio of storyteller Dale Gilbert Jarvis:
Dale Gilbert Jarvis is a storyteller, professional folklorist, and writer living and working in St. John's, Newfoundland, Canada. Dale tells ghost stories, faerie stories, legends and traditional tales from Newfoundland, Ireland, the United Kingdom and beyond. Dale is the founder of the St. John's Storytelling Circle, president of the annual St. John's Storytelling Festival, and a member of the board of Storytellers of Canada/Conteurs du Canada.

As a storyteller, Dale has performed locally and at international festivals, but is perhaps less well known than his alter ego, the distinguished Reverend Thomas Wyckham Jarvis, Esquire. Since 1997, The Reverend has been the host and guide of the St. John's Haunted Hike, a walking ghost tour through the haunted streets of St. John's. Under his supervision, locals and tourists have been introduced to the vengeful lovers, murdered soldiers, and mysterious fires which await those brave enough to explore the secrets that lie in wait in St. John's darkest corners. Mixing history, humour, true scary stories and traditional storytelling, Dale has been winning over audiences and throwing in the odd scare here and there, and has been covered by a wide variety of local, national and international media. Over the past years, the Hike has grown from a small idea to a fixture in the St. John's tourism industry.

Dale is the author of two books of local ghost stories, "Haunted Shores: True Ghost Stories of Newfoundland and Labrador" and "Wonderful Strange: Ghosts, Fairies and Fabulous Beasts of Newfoundland and Labrador" both published by Flanker Press, and a collection of world ghost stories for young adult readers, "The Golden Leg and Other Ghostly Campfire Tales" also published by Flanker.
You can read more about Dale on his various websites at
http://www.hauntedhike.com
http://www.dalejarvis.ca
http://storytellingstjohns.blogspot.com/