---


Purchase a HQ Mp3 File of
Interview #019 Cristin Thomas
Director of the Tejas Storytelling Association
[wp_eStore:product_id:40:end] for $2.23
Exposing new audiences to storytelling.

---
We covered the following topics…
1. Building a festival
2. Grants
3. Sponsorships
4. Marketing
5. Strategic Planning for an Organization
6. Positioning the organization for continual growth
7. The need for clarity
Planning for the future…
Looking ahead is so important. Know the road that you are traveling with clarity of your mission and knowledge of your vision. Many organizations can trap themselves in the survival of day to day. When this happens it is extremely difficult to look ahead. By looking ahead we can create a plan that helps us reach multiple demographics.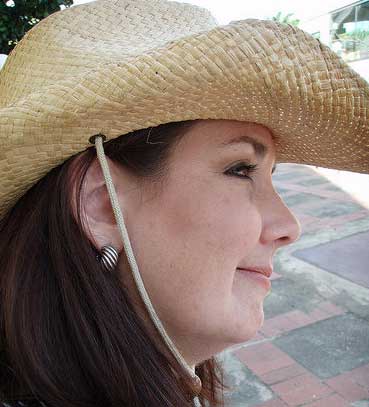 Cristin Thomas has a Bachelor of Science -in theatre from Texas Woman's University. She has also received a Master of Fine Arts from Louisiana State University. After receiving her MFA, Cristin began working as an actress with a Non-Profit Professional Children's Theatre in Baton Rouge, Louisiana. Cristin worked with this company for eight years the last three years she was the Managing Artistic Director. Cristin was hired to be the Executive Director position at Tejas Storytelling Association in 2005.
You can find the history of the organization on www.tejasstorytelling.com. We are a membership organization that produces six newsletters a year on Storytelling Events and Helpful Insight on one's artistic growth as a storyteller. We have a new website that is allowing storytellers to advertise themselves, find event information, newsletters and email newsletters that are sent out monthly.
TSA Mission Statement:
The mission of Tejas Storytelling Association is to perpetuate the art of storytelling throughout the South Central Region. TSA will continue to promote all facets of storytelling and to expand the understanding and experiences of storytelling by nurturing storytellers and listeners and recruiting new audiences.
TSA History
In 1985, storyteller Finely Stewart produced the first storytelling festival at the Denton Arts Center, in Denton, Texas. A handful of storytellers and listeners gathered to participate in the ancient art of storytelling. Storytellers told in themed concerts to the listeners. This humble beginning lit a spark in those who participated. By the next year, story lovers worked to establish the Tejas Storytelling Association (TSA) as an official 501(c)3 non-profit organization. They named it Tejas to express Finley's grand vision of creating an organization that would bring together listeners and tellers from throughout the Texas region. Many historians believe that the word Tejas had its origins from the Caddo native american word for friend.
From these beginnings, TSA rapidly grew. They continued to grow the festival drawing tellers and listeners from Texas, Louisiana, Oklahoma, and Arkansas. The festivals began to feature workshops on how to tell stories and feature nationally known storytellers.
In 1997, Karen Morgan became TSA's second executive director after Finley Stewart. She had served years as a volunteer and later as a board member. Through her tenure as executive director, she shepherded the growth of the festival. She solidified the relationship between the Festival and the city of Denton. In 2000, she founded the Denton Storytelling Task Force.

2005 marked many changes to TSA. TSA celebrated the 20th anniversary of the Texas Storytelling Festival. This year also brought sadness in the loss of Karen Morgan as executive director. Her years of hard-work, community building, and vision will be missed. TSA has hired a new executive director, Cristin Thomas.

She and the board of directors are working to take TSA to the next level increasing the impact of TSA on the Tejas region. They have revised the organization's mission statement to provide a new focus for taking storytelling to the next level.

For many, storytelling is much more than a past time. It's a way of life. Volunteers have provided hundreds of thousands of hours to TSA in the support of storytelling. They have done so because they've felt that same spark that started over twenty years ago. People attending TSA's events experience the joy, wisdom, and hope that storytellers transmit through their stories. We hope that you'll attend the Festival or one of TSA's other events and experience the power of storytelling.
Portion taken with permission From the Tejas Storytelling Association Website.