Press Play to hear Elisa Pearmain speak about a Teaching Forgiveness through storytelling on the Art of Storytelling.
---

Tired of the tin sound?
Purchase a HQ Mp3 File of
Interview #088 Elisa Pearmain
for $2.23
Teaching Forgiveness through storytelling.

---
Written by Elisa Pearmain…
Forgiveness is central to the success of relationships, and is an integral part of the emotional, spiritual and even physical healing process, and yet it is poorly understood. Forgiveness offers an opportunity to look at and relate to our stories of wounding in new ways. It calls us to see those who have hurt us with more complexity and empathy. It guides us to forgive ourselves, to untangle ourselves from wounding experiences and the role of victim, and ultimately to live more fully. Stories and storytelling work can help us to understand forgiveness more deeply, and to traverse the forgiveness process with more support and imagination.

In this podcast Elisa Pearmain focused on forgiveness for individuals rather than reconciliation between people or groups of people. She shared a few stories that illustrate aspects of the forgiveness process in action. She discussed some of her personal experiences with forgiveness. She shared some of her observations of the forgiveness process in her therapy practice, and how often at bottom we discover the need to forgive ourselves. Elisa discussed how retelling personal experience in folk and fairy tale can help in this healing process and how the "narrative reframing" or "shifts in perspective" are at the heart of forgiveness, and various techniques for shifting story perspectives she uses. Elisa talked about forgiveness in the grief process, and some of the reasons why it is hard to forgive. All this and your questions in one hour under the wise guidance of our host!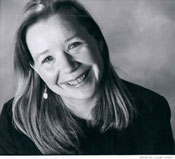 Bio
Elisa Pearmain began her career in storytelling as a dancer who was trying to tell stories without words. In her late 20's she was she was challenged in a dance theatre workshop to tell a story combining words and movement about an experience in which she found empowerment. Elisa began to shape the story of her experience as a battered woman in her first relationship after college. By stepping back into the shoes of the scared young woman who tiptoed around her boyfriend, and by reconnecting to the voice she didn't have to speak her truth, she discovered that she hadn't deserved the abuse and that when she shared her story others were grateful and wanted to share theirs. Thus began a deep curiosity and belief in the healing power of storytelling.
Elisa was soon leading groups of women to shape and share their stories and to learn from them. Her next project was to gather stories from Vietnam Veterans. She shaped one long story based on the stories she heard from them called "The Defoliated Heart," and shared it with teens and adults. She learned so much more about wounding and trauma, and the role of story in the healing process.
Elisa's career in storytelling has led her through storytelling residencies in the Boston Public Schools, as an adjunct faculty at Lesley University for 14 years, teaching teachers to integrate storytelling and as a professional storyteller in schools and libraries and churches.
In 1998 Elisa published her first book, Doorways to the Soul: 52 Wisdom Tales from around the World. This is a collection of short wise tales from many traditions and ways of connecting more deeply with them for personal and spiritual growth. In 1998 she also received her Master's in Counseling and began to work formally as a therapist. For six years she worked on a psychiatric unit of a local hospital, often leading groups using story. For the past six years she has been working part-time in an out-patient clinic with teens and adults. She finds that almost every client she sees is struggling with issues related to forgiveness, and that being able to forgive one self and others in central to healing, personal and spiritual growth.
She also presents programs in schools related to character development and bullying prevention and has a second award-winning book called, Once Upon a time: Storytelling to Teach Character and Prevent Bullying. Lessons from 99 Multicultural folktales for the K-8 Classroom. (2006)
To learn more about Elisa's work and other publications you can go to her website www.wisdomtales.com