Press Play to hear Baba Jamal Koram speak the responsibility of being a storytelling on the Art of Storytelling with Brother Wolf.
---

Tired of the tin sound?
Purchase a HQ Mp3 File of
Interview #085 Baba Jamal Koram
for $2.23
Storytelling as Responsibility.

---
Baba Jamal Koram is a storyteller in the African American Griotic Traditions, he is a dedicated practitioner and teacher of the spoken word traditions and is a respected leader in the world of storytelling. Baba Jamal is a groundbreaking storyteller, educator, folk drummer and organizer. He is a past president of the National Association of Black Storytellers, Inc. and is a 2001 recipient of its prestigious Zora Neale Hurston award. Called a storyteller's storyteller, and a Griot's Griot he continues to travel across the nation sharing his stories and his presence with thousands of school children and their families. Baba Jamal holds the B.A., M.S. and Ed.S. degrees, and is married and the proud father of children, grand children, and godchildren.
This master storyteller uses his stories to inspire, encourage, and to uplift the positive growth of our children and in our communities.
He has said:
"My South Carolina great grandmother Mary would say to her grandchildren, - Bring me a cool glass of water, and I'll tell you a story. Then she would proceed to tell them one of those traditional African American Gullah stories, about Bruh Rabbit or one of the many folkloric characters... I follow in her storytelling footsteps. . .Call me if you have a cool glass of spring water."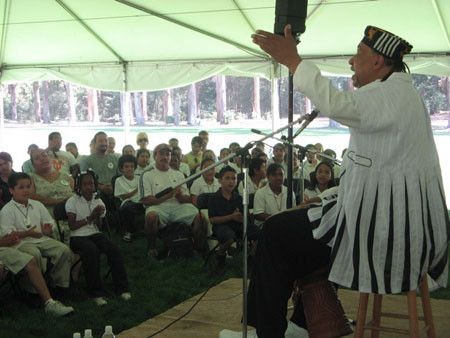 For More information on Baba Jamal Koram check out his website: http://www.babajamalkoram.com/