Press Play to hear Ben Sota is the Artistic Director of the Zany Umbrella Circus and he speaks on the Art of Storytelling with Brother Wolf about the art of showmanship.
---

Tired of the tin sound?
Purchase a HQ Mp3 File of
Interview #083 Ben Sota
& the Zany Umbrella Circus
for $2.23
A Conversation on Showmanship.

---
Ben Writes…
Thoughts of showmanship.
As a circus performer I able to show people fantastic things. Performances on the trapeze, tight wire. juggling seven balls, and give them a glimpse of what many think is impossible.
For me showmanship is about connecting that fantastic to my audience. For me showmanship is inclusion….
As a circus performer my characters stride to be unassuming and unpretentious. The performance uses storytelling to bridge that fantastic to an every day life.
A contract happens, the everyday mixes with the surreal and the audience has a memorable experience that they can relate to. These ideas and more are featured in my interview with storytellers Brother Wolf.
Enjoy, Ben Sota)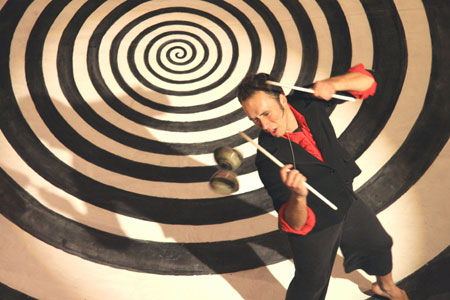 Bio of Ben Sota is the Artistic Director of the Zany Umbrella Circus

Ben has studied at the San Francisco Circus Center, Trapeze Arts, and Acro Sports. He has produced over thirty shows and performed at the National Council on Foundation, the National Storytelling Convention, at the Kennedy Center for the Performing Arts, at Al Hussein Amphitheater in Amman Jordan, and at hundreds of other venues.
In the spring of 2006 Ben had the honor of a performance at the White House in June of 2006, he raised eyebrows by dressing in burlap pants. He told senators and congressmen folk art stories of his grandfather's circus in South Dakota during the dustbowl; this performance caused bipartisan smiles and conversations about the importance of the arts in situations of need.
More commonly than the White House, Ben can be found performing at arts festivals, for social justice causes, and community celebrations, and for schools and universities all over the world.
As a teacher the Pennsylvania Council on the Arts has selected Ben as an artist residency teacher. He has also been recognized by the Children's Museum of Pittsburgh as is listed as an outreach teacher; he is a member of the Pennsylvania Performing Arts on Tour and is recognized as a commonwealth speaker of Pennsylvania. Recently he was awarded the Eben Demarest Trust, a prize based on his artist merit that Jackson Pollock once one.
In October of 2007 the Pittsburgh Children's Museum debuted an interactive exhibit called "Circus for Social Change". The 1,800 sq. ft. exhibit showcases Ben's projects of giving around the world. The exhibit gives children a chance to walk on a tight wire and try out circus.
Ben's work has been supported by the Heinz Foundation, the Grable Foundation, the Mellon Foundation, the Pittsburgh Foundation, and many others.
Ben has worked hard to bring circus to those who need it most. He has taught thousands to juggle, walk on a tightrope, and perform trapeze. Many of his students come from at-risk backgrounds
Recently Ben traveled to New Orleans, Jordan, andAfghanistan to perform and teach.
Patch Adams wrote, "I hope all will generously support your work it is real people to people aid" when speaking about Ben's work.
Wavy Gravy wrote, "For the last 5 years I have watched Ben teach children juggling and aerial arts with patience, kindness, imagination, and great skill. Ben Sota is truly a GREAT artist. I highly recommend him without reservation as a unique and extraordinary talent in any performing or teaching situation."
Learn more about Ben's Sota's work at http://www.zanyumbrellacircus.com