Press Play to hear Ed Stivender speak on the 5 Fool proof Rules for Successful Storytelling on the Art of Storytelling with Brother Wolf.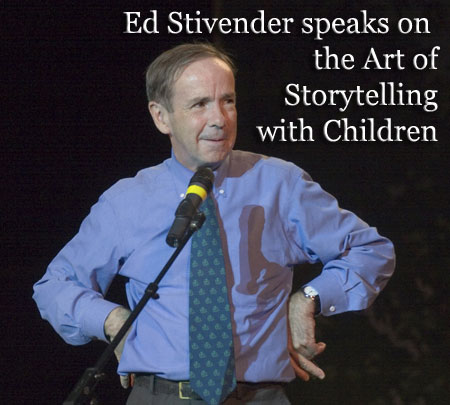 In reviews of his performances, Ed Stivender has been called "the Robin Williams of storytelling" and "a Catholic Garrison Keillor". Now, Ed -- Philadelphia native, Shakespearean actor, banjo player, teacher, theologian, Mummer, dreamer, juggler, and raconteur -- has put together a program in which he shares the techniques that have made him one of the most honored and sought-after storytellers of our day.
Since 1977, when he left his day job as a high school teacher in Connecticut and turned to storytelling full-time, Ed has fabulated his way around the globe --appearing in schools, churches, coffeehouses and theaters, as well as at major storytelling festivals. He has been a featured performer at the National Storytelling Festival, the Cape Clear Island International Storytelling Festival in Ireland, Graz Festival, Austria and our own Philadelphia Folk Festival. Ed enjoyed narrating: "Paddington Bears Special Day" with the Harrisburg Symphony, "Ferdinan the Bull" with a violinist for the Philadelphia Orchestra, and "Peter and the Wolf" with the LaGrange Symphony.
In the Spring of 2005 Ed worked with a group called Historic Philadelphia Inc., which has had colonial re-enactors in the historic district, that expanded to include a project called "Once Upon A Nation".
Ed worked with them as a consultant/writer/trainer, helping them develop short historical stories to be presented throughout Independence National Historic Park on thirteen storytelling benches. He trained the tellers during their three week training, "Benstitute", and did some paperwork summarizing and suggesting. Ed also wrote a theme song for them.
The National Storytelling Association inducted Ed into its Circle of Excellence in 1996.
Ed has strutted in the Comic division of the annual Philadelphia Mummers Parade since 1982. In 1994, he received the Mummer's Most Original Character Award for his one-man Vatican-American String Band, and in 1996, he was Captain of the first-prize-winning Kingsessing Morris Men and in 2006 he won first prize for Most Original Character.
Ed is the subject of a chapter in the book Storytellers by Corki Miller and Mary Ellen. Snodgrass, a story in Chicken Soup for the Romantic Heart and is the author or two books of tales: Raised Catholic, Can You Tell? and Still Catholic After All These Fears. He has also released a video and several recordings of his performances.
To Book Ed Contact:
NANCY CLANCY
26616 Willowmere Drive E-35
Millsboro, DE 19966
STORYCLAN@aol.com
302.947.9515
For More information on Ed Stivender
Business Cards