Press play to hear Elizabeth Ellis who was interviewed by Eric Wolf on the relationship between Storytelling and the Development of Ethical Behavior on the Art of Storytelling with Brother Wolf on Wednesday, Dec. 3 at 8pm.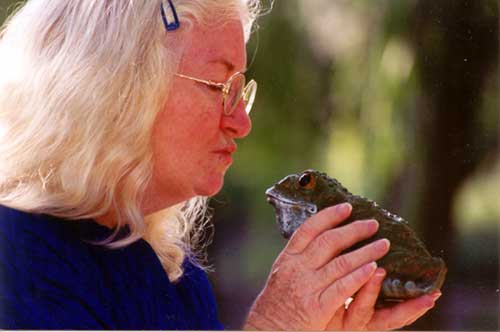 Elizabeth Ellis Writes…
If I had a nickel for every time someone (attorney, state trooper, loan officer, IRS agent) has made fun of me because I told 'em I am a storyteller, I could take us all out to dinner. At a nice place. With tablecloths. Because often the public perception of storytelling is that it is fluff and foolishness.
Well, we storytellers know better, and we have survived an entire movement of Back to the Basics and Almighty State Testing. What the left brain-ers don't realize is there is another entire level of education far more basic to being human than the 3 R's will ever be.
The most basic things about being human come from the right side of the brain, not the left. Chief among them is the ability to make ethical decisions. I am not talking about following the rules. Remember that the Nazis were great rule followers. Ethical decision-making requires the ability to imagine the effect of my behavior on your life. Without an active imagination, a child is an ethical cripple. The new study about the state of ethics of America's youth just out from the Josephson Institute (http://josephsoninstitute.org/ for the full details of the survey) has many people in our culture asking themselves, "How did we get on this handcar? And where are we headed?
Hearing stories told leads to the development of empathy. And empathy is essential for all ethical decision making. I have been talking about this for more than thirty years. Recently other folks have begun to say the same thing. I am pleased by that, 'cause I'm not gonna live forever. Check out P.J. Manney's article "Empathy in the Time of Technology" in the September, 2008 Journal of Evolution and Technology. (http://jetpress.org/v19/manney.htm if you want to read the entire article, especially the interesting part about the development of "mirror neurons".)
Please join me for a discussion of how storytelling contributes to the development of ethical behavior on this Pod-cast, but also in your guilds and story circles and list serves. In a time of national financial hardship, it behooves us as tellers to be able to challenge people's thinking about the importance of story and it's role in right brain development. Storytelling is neither fluff nor foolishness. It is how we change the world "one listener at a time."
Oh, and by the way, if you happen to be a attorney, state trooper, loan officer or IRS agent or some other form of left brain-er, it is the key to learning to "think outside the box", which is imperative if America is to remain an economic power. (Daniel Pink, A Whole New Mind: How Right-Brainers Will Rule the Future. Riverhead Books, 2006.); but, that's another story.
A Short Biography
Designated an American Masterpiece Touring Artist by the NEA, Elizabeth Ellis grew up in the Appalachian Mountains. A children's librarian at Dallas Public Library before becoming a professional storyteller, the "Divine Miss E" is a versatile, riveting teller of Appalachian and Texas tales and stories of heroic American women, though her personal stories are arguably her best. Invariably hilarious and poignant, she is a repeated favorite at the National Storytelling Festival. Selected a Listener's Choice at the 30th Anniversary of the National Storytelling Festival, she is a recipient of the John Henry Faulk Award from the Texas Storytelling Association and the Circle of Excellence Award from the National Storytelling Network. She has mesmerized nearly a million children in her thirty-year career as a professional storyteller.
Elizabeth is also well known for her workshops, which offer training for beginning and seasoned storytellers. Inviting the Wolf In: Thinking About Difficult Stories, which she co-authored with Loren Niemi has been described by NAPRA ReView as a "great leap forward in the literature of how to put stories together with art and truth". It received a Storytelling World Award.
Jay O'Callahan says, "Elizabeth Ellis's voice sounds like chocolate tastes." Her stories are just as addictive as chocolate. A mother and grandmother, she makes her home in Dallas. www.elizabethellis.com