Fill out the form and press play to hear Granddady Junebug aka Mitch Capel speak on poetry and storytelling on the Art of Storytelling with Brother Wolf.

---

Tired of the tin sound? Purchase a HQ Mp3 File of Interview #067 Mitch Capel Grandaddy June Bug
for $2.23 Poetry and Storytelling

---
Grandaddy Junebug writes…
Good storytelling is like poetry to your ears…good poetry is storytelling at it's best. Storytelling and poetry go together like hand in glove. Ninety percent of the stories I tell are in rhyme so I coined the term "sto'etry" to describe my unique style of telling.

At the tender age of three, my paternal Grandmother read to me the story poem "A Cabin Tale" from the "Life And Works Of Paul Laurence Dunbar". The genius of this work coupled with the joy in my Grandmother's eyes and the passion in her delivery left an indelible impression in my heart. Since 1985 I have been performing the works of Dunbar, myself and others at festivals, schools and other venues throughout the United States.
Storytellers in general are unaware of the vast potential poetry can add not only to the repertoire of the teller but, also to the "flavor" of the performance. This is especially true with venues for children. A vast majority of young audiences are familiar with the "Rap" genre of music and are, therefore, more inclined to not only enjoy the performance with greater appreciation but also to digest more of the content of the morals and affirmations. "Sto'etry" is "Rap" without the music with each child supplying his or her own "beat" to the vocals, which, in turn actually seems to garner more satisfaction as one seems to "enjoy the book more than the movie". Older audience members are also appreciative of this style because most, in their youth, were taught the values of poetry and the importance of memorizing and reciting for different groups within their respective communities.
Come with me as we explore the unlimited possibilities poetry can add not only to storytellers, but, to story listeners as well.
Most storytellers shy away from utilizing poetry in performance because of the need to "memorize" verbatim as well as the inability to "ad lib" during the show. It is true that poetry lends itself to a certain rhythm, however, once you've crawled into the skin of the poet your voice becomes the vehicle and your words become the steering wheel that guides the listeners (travelers) on the journey. A good storyteller wouldn't have any problem "playing" to an audience or "ad libbing" while utilizing the "sto'etry" style of telling.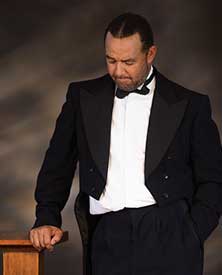 About Grandaddy Junebug
Mitch Capel was "born and raised" in the small town of Southern Pines, North Carolina and was introduced to the world of storytelling at a very early age by his parents and grandparents. His grandmother, Elnora Leak Capel, read "A Cabin Tale" from the Life and Works of Paul Laurence Dunbar to him when he was three years old. The rhythm of the story and the genius of Paul Laurence Dunbar was planted like a seed. Mitch and his brothers were encouraged by their parents to memorize the works of great poets to recite at church and civic events. It wasn't until he had finished college, moved back home and started working with his father in the family business that Dunbar would re-enter his life. His father, Felton Capel, shared stories of his youth and "creek talk" (a term used to describe the dialect of his hometown of Windblow) and one day gave Mitch the same Dunbar book that had been used by his grandmother. His father said, "if you love that 'creek talk', you'll love this" and he handed over the book. Mitch's father was right…the next seven years he studied that book, examining every word, every nuance, every moral and every intention of the author.
After re-discovering "A Cabin Tale", Mitch started reading the story to his kids every night and eventually memorized it. He told a friend the story one day, was invited to recite it at a banquet where there were teachers in attendence, who subsequently invited him to their school. The seed that was planted twenty seven years earlier was being nourished and beginning to sprout. He developed a character, "Gran'daddy Junebug" to deliver the words because he felt a young man wouldn't be as convincing. The character is a tribute to his own grandfathers who passed when he was young, two elderly gentleman he "adopted" to fill the void and a way to pay respect to other elders. The "blossoming" was evident when Mitch's grandmother reached the point where her memory was failing her and he sat on her bed and started reciting "A Cabin Tale" at which point she start reciting with him, then laughed and said "boy, you remembered that story!" Not only did he remember, but because of his grandmother and his parents, he is now one of the most sought after entertainers in the world!
Mitch Capel is a storyteller, recording artist, poet, actor and author who has been bringing stories to life and delighting audiences mostly throughout the United States with his warmth, wit and compelling storytelling style since 1985. He is considered "the national interpreter" of poet laureate Paul Laurence Dunbar (1872-1906) and it is his voice you hear as "Paul Dunbar" at the Wright/Dunbar Interpretation Center in Dayton, Ohio. He has done "voice overs" for Dunbar on film and has memorized over 70% of Paul Laurence Dunbars' work. 'Gran' daddy Junebug" has been described as "a national treasure", "a transformer of lives", "unexpectedly powerful" and "a word magician"…he coined the term "sto'etry" to describe his stories recited poetically. Continuing his family tradition of preserving culture and teaching through stories, "Gran'daddy Junebug" teaches personal responsibility and respect for self and others through the African oral tradition of "call and response." He utilizes audience participation to share his wisdom on being true to self, finding your right path, coping with peer pressure and always doing the best you can. The stories are developmentally appropriate for all ages, or as he likes to say, "from the day care to the rest home." He has received numerous awards for Artist of The Year from many national organizations as well as various accolades from state and local government agencies recognizing his work with youth. He is the co-founder of The National African-American Storytellers' Retreat, has been featured twice at The National Storytelling Festival in Jonesborough, Tenn., annually at the travelling National Black Storytelling Festival and Conference since 1988 and the Signifyin' & Testifyin' Storytelling Festival held in Minnesota. He is the official emcee at two National "Liars' Contests" and has been featured on National and International Public Radio. Mitch was the first performer to grace the stage at the newly opened National Underground Railroad and Freedom Center in Cincinnati, Ohio and was invited back to do his production of "Christmas On The Plantation" the following December.
Mitch has produced four award-winning storytelling cassettes, three compact discs and has published a motivational children's book entitled "The Jealous Farmer". He recently collaborated and performed on a series of DVD's: "Jump Back, Honey Jump Back", "In Days Gone By", "Stories For Grown Folks" and "The Kings and Queens of Storytelling". His program, "W'en Dey Listed", a journey through the life of various colored soldiers in the Union army during the civil war, was premiered at the National Gallery of Art's National Teacher's Institute in Washington DC in July 2005 to rave reviews and was requested and performed twenty-three times the following February for Black History Month. His recent stage credits include "To Kill A Mockingbird" and "Driving Miss Daisy". Mitch has been married to the former Patricia Peek since 1980 and they have two sons (now grown) Christopher and Julian. His hobbies include collecting the works of Paul Laurence Dunbar, writing, landscaping and collecting art. He is also an avid golfer because he says "it was a pre-requisite for growing up in the Pinehust/Southern Pines area. I love the challenge, the beauty and tranquility that golf courses have to offer. Besides, golf is a lot like storytelling in that it teaches us valuable life lessons." "Gran'daddy Junebug" leaves his audiences with the ancient wisdom and cultural knowledge of cooperation, collective responsibility, the importance of community, shared goals, empathy and always striving for excellence. Mitch Capel studied speech and theatre at North Carolina A&T State University and Howard University, but more importantly, he is a full time honor student at the "University Of Life".
Check out more info on Mitch Capel
http://www.gjbug.com/