Fill out the form and press play to hear David B. Epley on storytelling with comedy on the Art of Storytelling with Brother Wolf.

---

Tired of the tin sound?
Purchase a HQ Mp3 File of
Interview #047 David Epley
for $2.23
Comedy and Storytelling.

---
David Epley writes…
Comedy is one of the most effective tools for imparting any information:
It actively involves the audience; laughter is not passive.
It encourages the audience to focus on the process; you must pay attention to the setup in order to get the punch line.
It makes the process fun.

All of these aspects conspire to make an event, an individual, or a particular subject matter, more memorable. Think of your favorite Teacher, Storyteller, Pastor, Politician, Actor, Choreographer, et cetera, and you will see the truth of what I'm saying. Comedy can be used to educate, to alleviate tension, to ease stress, to help in almost any situation.
Unfortunately, comedy can also be used for ill. It is a powerful tool, and like any tool, its effects, and the responsibility for those effects, are in the hands of the user. It is used daily to hurt, to degrade, to destroy. Sometimes with intent, often without. This places a great moral responsibility on the comedian.
When using Comedy, one must make a conscious effort to gauge its consequences, and take corrective action when necessary. Not all laughter is positive, or even acceptable.
Years ago the US Military enacted its infamous "Don't Ask, Don't Tell" policy regarding homosexuality in the Armed Services. My partners in Theatre in the Ground and I wrote a short bit designed to mock it. The bit was about 30 seconds long, highly interactive, and generated 3 very solid laughs. (That's a laugh every 10 seconds, each one building in effect, and that's great. Vaudevillians used to shoot for a minimum of one laugh every 23 seconds.) Unfortunately, after performing the bit a few times, we realized that the audience wasn't laughing at Don't Ask Don't Tell. Most were actually responding to our comedy by laughing at homosexuals as a whole. This was far from our intent, and was generating laughter that we felt was actually bad for the world. We cut the piece immediately. It is a lesson I will never forget.
Enjoy the gift of laughter. Use it. Revel in it. Share it.
Just remember its power, and respect it.
For more info on David Epley or Doktor Kaboom and the best example of a professional entertainers website I have ever seen go to…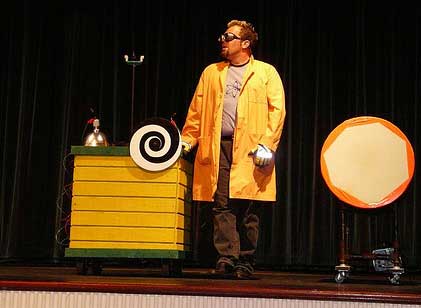 http://www.doktorkaboom.com/